Ginger Wimer, Caron Warner, and Gail Powers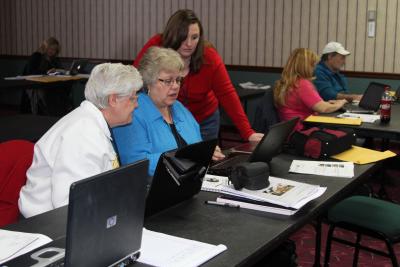 *pictured above from right to left are Ginger Wimer, Caron Warner, and Mary Ruth Raines.
In many families, volunteerism runs deep: if there is one volunteer in the family it is not uncommon to find several more volunteering for the same organization. Volunteer fire departments are no exception, and the Circleville Volunteer Fire Department in Pendleton County is a prime example. Fire Chief Carl Warner and his wife Caron have been volunteering with the fire department for nearly 40 years. Caron Warner has taken on a new responsibility as one of three mentors for the fire department's computer center.
For Caron and her husband, the fire department has been central to their life for years. The new computer lab provided Caron with an opportunity to look for new volunteers. Caron recruited Ginger Wimer and Gail Powers because she knew they would take their responsibilities seriously and lived within reasonable distance to the computer center.
For Ginger Wimer, volunteering came naturally once she became a mother, volunteering at her child's Head Start. Like many families in rural West Virginia, all three women also volunteer with their church.
"In this area, nothing like this has ever been offered for the community, by the community," says Gail. Caron adds that "the class atmosphere is very comfortable; everyone knows each other." Ginger adds: "We are bringing the internet to those without access or who can't afford it. It also lets people who are taking classes through unemployment do their online homework."
Community feedback is a strong motivator for the mentors. Children use the computers for homework; college students come to print papers; small business owners are signing up for classes and hope to file their taxes online; and seniors come in to learn computers for the first time. One of their students uses computers for her job and knows the basics, but comes to the lab to ask questions and learn skills that she might otherwise be a little embarrassed to ask about at work.
"We have had a few students who have never used a "mouse"; it is a completely different world for them, but they are learning," says Caron. "We have a few students who will say 'I can't learn this,' or 'I'm stupid about this stuff,' and it is really nice for them to have someone to encourage them and let them know they are worthwhile," says Caron. "It is nice to let people know that there is someone out there willing to do something for them or help them with no strings attached," adds Ginger.