Charlotte and Eric Squires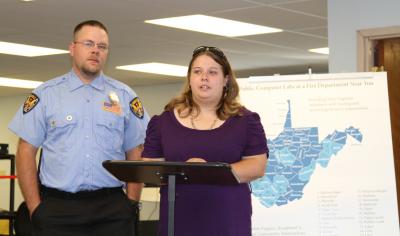 Despite being under 30 years old, Eric and Charlotte Squires—husband and wife—have 17 years of combined fire fighting experience. At 16, Eric joined the Gilmer County Ambulance Squad and Fire Department. At 15, Charlotte joined the fire department in nearby Lewis County. Years later, when the two fire departments from Lewis and Gilmer Counties joined forces to fight a fire at a large sorority house in their area, Eric and Charlotte met for the first time. They have been fighting fires together and serving as EMTs (Emergency Medical Technicians) ever since. Today, they volunteer with the Gilmer County and Lewis County Fire Departments and Emergency Rescue Squads. Most recently, the Gilmer County Volunteer Fire Department nominated them as local computer mentors.
Eric and Charlotte both come from a family of volunteers. Charlotte's mother is an EMT, her father was the Assistant Fire Chief, and several family members once served in the fire department.
They are motivated to volunteer by the people they serve. Summing up his best memory as a volunteer, Eric says it's about "being able to help neighbors that I've known for years, friends that I've known for years, and family members of my own in their time of need. It's about being able to be there, give support, and to help on a professional level." Charlotte also enjoys the adrenaline rush of heading out to a call, which, as Eric notes, "You don't like to see anyone's house burn, but it's an experience like no other."
Other key motivations are the joys of community outreach and the comradery of fellow volunteers. Charlotte fondly recalls handing out toys at Christmas to less fortunate children and being able to participate in parades. And, then there are the fun, games, and pranks among the volunteers themselves. On several occasions, fire fighters have returned to the fire house after a call to find that someone has hidden their street clothes, or worse, frozen them in the freezer. Charlotte jokes that her fellow EMTs once tied her to a backboard—the hard boards that patients are placed on if neck or back injuries are suspected—and left her to dangle outside.
Despite their busy schedules, Eric and Charlotte could not imagine giving up their volunteer work. "If we could look back and start all over again, we'd do the exact same thing we've been doing," says Eric. Charlotte adds, "It's not just something we do, it's who we are, being a part of the fire department or being an EMT; it's part of us."